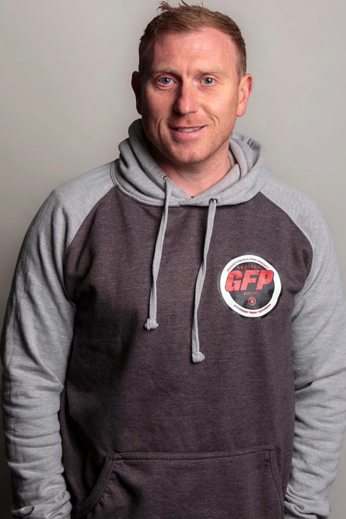 Owner
/
Personal
Trainer
/
CrossFit
trainer
I have always been heavily involved in sports through playing semi-professional football and refereeing. In 2002 I completed my training to pursue a career working in the fitness industry.
After qualifying through Premier Global training, I set up MB Fitness, and in 2008 I established Grange Fitness.
I also worked for Ipswich Town Football Club as 1st Team Sports Massage Therapist. My motivation for the work I do is helping clients to achieve their goals. This can be extremely satisfying, and I have been able to build up a good rapport with my clients, some of whom have been affiliated to the gyms over a number of years.
The aims and reasons my clients have for training with me are varied and include the following:
Progression
Preparing for a kickboxing tournament or marathon
Getting fit for a ski-ing holiday
Post-Injury/Trauma:
RSI;
Rehabilitation after an injury;
Neuro rehabilitation Health Issues:
Tackling Obesity;
Prevention of arthritis and osteoporosis;
Addressing high blood pressure;
Pre-Op health;
Post-Op recovery;
Ante natal health & fitness.
Self Confidence:
Improving self-image
I hold qualifications in:
Personal Training (including circuit training and nutrition)
CrossFit level 1 trainer
Sports Therapy (including sports massage and body massage)
UEFA Level 2 Coaching in Football Most recently